Meet Our Staff
Parents appreciate the consistency and experience of our staff. All of our educators pursue ongoing professional development through workshops, lectures, conferences, and continuing education courses.
A Letter from our Director
Welcome to Noanet Nursery School
Dear Parents,
I am happy to be announcing my return home to Dover! I am thrilled and excited to have been given the opportunity to serve as the Director of Noanet Nursery School. Deeply saddened when Dover Nursery School suddenly closed in June 2019, I was overjoyed to be offered the Director position when Noanet Nursery School was opened. After spending the past year assisting at a neighboring school, I am looking forward to returning to the place where my heart has always been the fullest.
I would like to take this opportunity to share with you some information about my background and who I am as a person. First of all, as an educator, I have greeted preschool children for the past 20 years, most of them right here in Dover. I spent 17 years with Dover Nursery School, most recently as its Director. What I appreciate most about being with young children is the joy and enthusiasm they bring to their learning and how I have grown through the process of sharing their journeys with them.
Prior to my years in early education, I was in the business sector as a purchasing manager- quite a surprise, right? With a degree in International Relations and Finance from Brown University, this is where I began my professional career. It was during these years in the corporate world that I learned what's involved in running a successful business; as an educator, I use this knowledge every day in the classroom!
I was with this company for 13 years before I "retired" to focus on my family. My husband, Bob, and I raised our four children in Sherborn, and all four progressed through the Dover-Sherborn public schools. We have loved raising our children here and being a part of the Dover-Sherborn community; I feel lucky to be able to continue to enjoy this strong community connection through the young children I teach and their families.
With the full support of our new ownership, the Noanet Nursery School teachers and I will create a warm and welcoming learning space; we will offer unique and always changing curriculum lessons tailored to our current students, and together we will grow as people and as friends, learning to believe in ourselves and to find the good in others and our world.
I hope you enjoy our website, and I look forward to meeting you at an upcoming Open House or at one of our school tours.
Best,
Gita Coutts
Director of Noanet Nursery School
508-734-3466 
info.noanetnursery@gmail.com
"I can't give enough praise to [this preschool with Ms. Gita and Ms. Lorraine], the incredible Director, and [the other] wonderful (and patient!) teachers. It is truly a special place! We looked extensively in the area at all different types of schools for our girls and couldn't be happier that we sent them to [preschool with Ms. Gita and Ms. Lorraine]. The experience we've had with the school and more importantly the staff and the other families has been second to none. My girls come home every day happy (and tired!), eager to share with me what they learned that day. What better joy for a parent than knowing her children are well cared-for, but also stimulated and challenged in a nurturing and kind environment. We couldn't be happier with [our preschool experience with Ms. Gita and Ms. Lorraine] and would highly recommend any school where she is the director!!" – Elizabeth

….I can't say enough about Miss Gita and her dedication to teaching and helping children to learn and grow. Miss Gita brought so many great enrichment programs to round out the curriculum…. She always went above and beyond to make sure both students and parents were happy."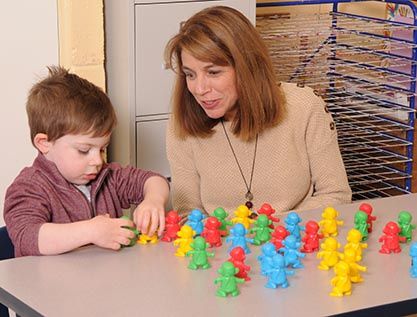 … I could not recommend this fabulous preschool more. The amazing staff and the intimate size of the classes meant that the on-point curriculum was delivered and received in a truly fun and relaxed manner. My now 5th, 3rd and K crew were so happy each and every day and well prepared for elementary school.